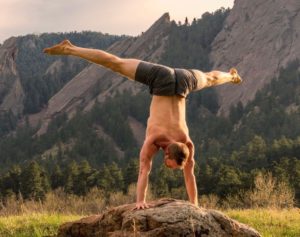 A self-described "Handstand-Up Comedian," Carson combines his love for being upside-down with his natural ability to make people laugh. During his classes, workshops, and retreats, students are encouraged to push their limits and explore their edge., while maintaining a playful attitude. In every instance, one can be sure to break a sweat, learn something new, and leave with a smile on his or her face.
After years of encouragement from his mother, Carson began practicing yoga in 2010. He did his first 200 hour teacher training in 2011 at Little River and has since studied Ashtanga Yoga with David B. Keil and Rocket Yoga with David C. Kyle. As a movement enthusiast, Carson incorporates a variety of disciplines into his yoga classes, which focus on building a strong mind and body.
Carson is an E-RYT 200, YACEP | International travel yoga instructor | Gold Medalist in the 8-and-under freestyle (swim)
Hot Box Yoga is proud to host Carson!
– Saturday – April 13 –
•10am – 12pm Rocket Yoga $20.00
•2pm – 4pm Tricky Transitions $35.00
– Sunday – April 14 –
•10am Floating on Breath $35.00
•2pm – 4pm *Special Inversion Master Class (Teachers Only) $35.00
*Limited Space.
*Signup at https://hotboxyogaep.com/pricing/
*For inquires (915)740-9325